Trauma-informed Ministry: Reflecting on Covid and moving forward in a changed world
This Workshop will explore the emotional and psychological impact of the pandemic on clergy and their congregations.
Participants will:
Look to the future, at our human need for connection and relationships with others, and what helps to equip and sustain us for the challenges we face in pastoral ministry and church leadership
Have the chance to process what happened during the pandemic and the effect it had on their wellbeing, ministry and vocation
Draw on neurobiology and trauma theory alongside biblical and faith resources, considering 'where we are now' - living in a time of uncertainty and change within the Church as we emerge from the pandemic
Workshop List
Please contact us with workshop suggestions, feedback, to request a hard-copy of the brochure and any other queries.
Training provider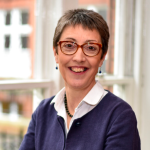 The Reverend Hilary Ison gained experience in Organisational Consultancy, Systems Leadership and Systems Constellations, after her initial theological training and ordination. She was a member of a research team on Tragedy and Congregations from 2017-21, and is a Trustee of St Luke's for Clergy Wellbeing.
Details
Audience: All in ordained ministry
Participants: 12-18
Format: -Online (half-day), in-person (full-day)
Credits: 0.5 (half-day) - 1 (full-day) (how credits work)
Book a workshop
Workshops are booked directly with providers, by the designated wellbeing workshops lead for your diocese. If you are the nominated person, you can get in touch directly with providers using this form.